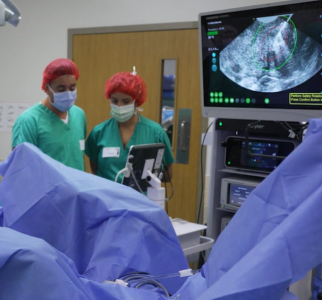 The side effects of uterine fibroids ruled Brandy Addis's life. Brandy has a history of cramping and heavy periods that would last seven to 10 days. Over the last couple of years, her symptoms and experiences were worsening with her period occurring twice a month.
The last few years were so awful Brandy was considering a hysterectomy to stop the periods.
"Almost every day I was crying," Brandy recalls. "I thought, 'I'll never get married. You're irritable all the time because you don't feel well, you don't want to do anything or go anywhere because you're miserable.' I can't tell you how many times I'd sit on my feet at someone else's house because I didn't want to get blood on their couch or constantly go to the bathroom."
The story, "Uterine Fibroids Were No Match for Marilee," caught her eye and it is where she learned of Sonata fibroid ablation, a minimally invasive, incision-free outpatient procedure that treats some types of uterine fibroids. Dr. Leslie Hansen Lindner with Atrium Health Women's Care Charlotte OB-GYN, performed the first Sonata procedure in the Carolinas in 2020. The minimally invasive procedure uses a smaller ultrasound at the tip of a handpiece to locate fibroids and treat them from inside the uterus. It can be performed under sedation and general anesthesia is usually not required for most patients. No incisions are made, which results in less pain, less bleeding and faster recovery for patients. The procedure itself can take anywhere from 15 minutes to an hour, depending on the number and type of fibroids being treated. This new procedure is proven to reduce symptoms while getting half of the treated women back to their normal activities the next day and the average return to work is two days. It can also substantially reduce the need for a hysterectomy.
"I was about to give up," Brandy says. "I just figured this is how my life is going to be. I can't wait to tell women how good I feel. It's not just physical healing, it's mental too. It's just amazing."
Click here to read the full story at AtriumHealth.org
Click here to watch an interview with Brandy and Sonata Providers at Atrium Health
Click here to learn more about this procedure at SonataTreatment.com