so∙na∙ta noun \sә-'nä-tә\
The Sonata [Sonography-Guided Transcervical Fibroid Ablation] System is an advanced technology platform integrating miniaturized sonographic guidance with radiofrequency ablation in a single delivery system. This allows the transcervical treatment of a wide range of fibroid types and sizes.
An alterative to more invasive surgical procedures, the Sonata System offers an incisionless option designed to ablate uterine fibroids, thereby reducing fibroid volume and alleviating associated heavy menstrual bleeding.
The Sonata System has CE Mark and is approved for sale in the European Union.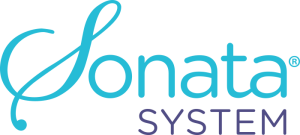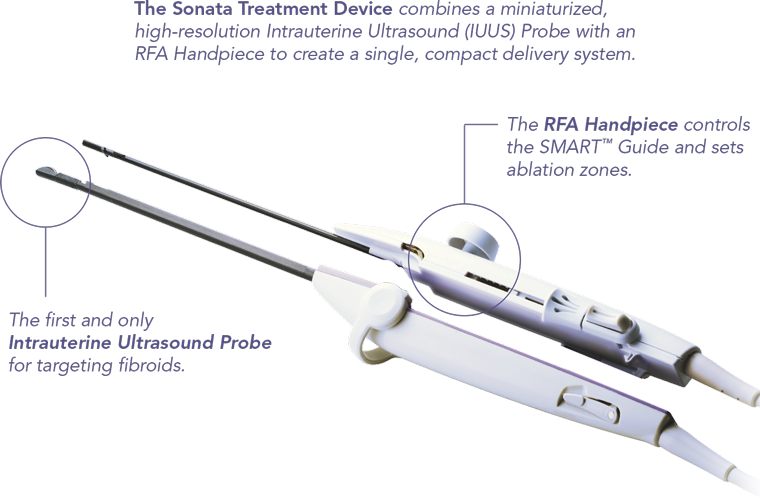 The benefits of the Sonata System include:
A uterine-preserving, incisionless alternative to hysterectomy and myomectomy
A proprietary radiofrequency system to deliver predictable ablations to a wide range of fibroids
Transcervical delivery to avoid the peritoneal cavity and tissue morcellation
Not associated with post-embolization syndrome
Sonata is SMART:
S

etting

M

argins of

A

blation in

R

eal Time

The SMART™ Guide displays a real-time graphic overlay on the live ultrasound image for targeting and deployment of radiofrequency ablation.

The graphic overlay is controlled by the operator using the RFA handpiece to determine:
Size and location of ablation
Mechanical stops for Introducer and Needle Electrode advancement
Duration of radiofrequency energy delivery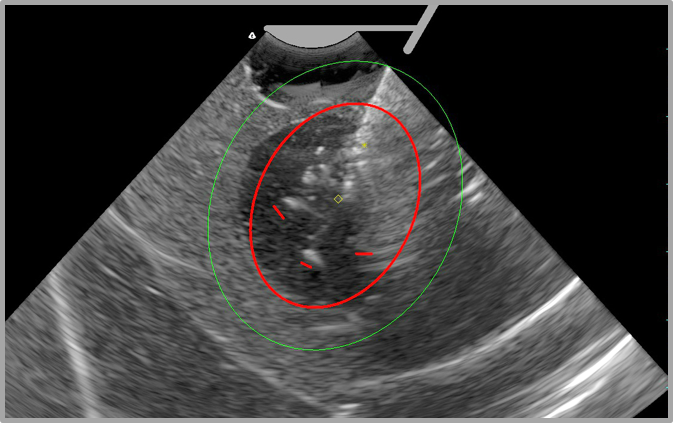 The Ablation Zone (inner red ellipse) – a two-dimensional representation of the average region of tissue ablation for the selected ablation size.
Thermal Safety Border (inner green ellipse) – the distance at which tissue is safe from the potential of thermal damage.
Safety Summary
Potential Postoperative Events and Risks: Abdominopelvic pain/cramping; back pain; constipation; dizziness/fatigue; headache; fever; malaise; nausea/vomiting; sloughing and, less commonly, intact expulsion of ablated fibroid tissue per vaginam (particularly after treatment of submucous fibroids); vaginal spotting/bleeding/dysmenorrhea.
Uncommon risks associated with fibroid ablation using the Sonata System include: allergic reactions; electrical shock; hematometrium; hemorrhage; infection; retention of device fragment; skin burn; thrombotic event; unintended injury to the uterus, cervix, vagina, adjacent organs or tissue.
Adenomyosis: Effectiveness in women with clinically significant adenomyosis has not been established.
Pregnancy: Safety and effectiveness with regard to fertility and fecundity after use of the Sonata System have not been established.