PALM-COEIN Classification
PALM-COEIN is a classification system developed by the International Federation of Gynecology and Obstetrics (FIGO) to create uniform nomenclature for the causes of abnormal uterine bleeding.
The Sonata System is designed to completely or partially ablate fibroid types 1,2,3,4,5,6 and 2-5. These are colored green in the diagram below.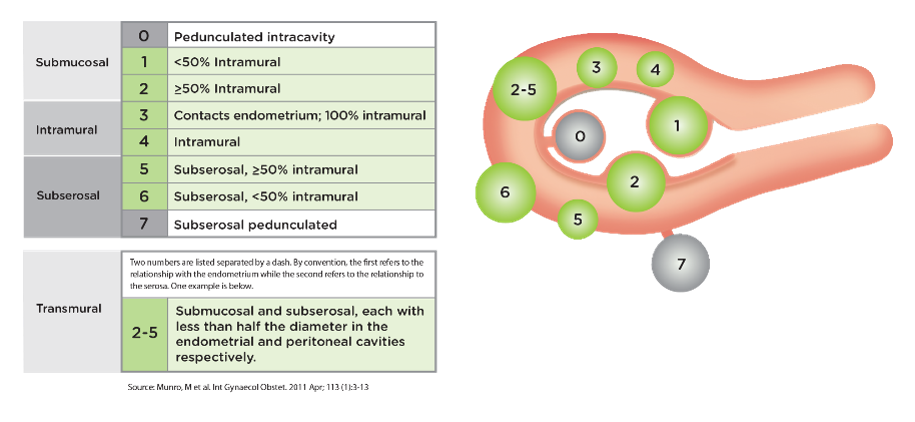 Safety Summary
Potential Postoperative Events and Risks: Abdominopelvic pain/cramping; back pain; constipation; dizziness/fatigue; headache; fever; malaise; nausea/vomiting; sloughing and, less commonly, intact expulsion of ablated fibroid tissue per vaginam (particularly after treatment of submucous fibroids); vaginal spotting/bleeding/dysmenorrhea.
Uncommon risks associated with fibroid ablation using the Sonata System include: allergic reactions; electrical shock; hematometrium; hemorrhage; infection; retention of device fragment; skin burn; thrombotic event; unintended injury to the uterus, cervix, vagina, adjacent organs or tissue.
Adenomyosis: Effectiveness in women with clinically significant adenomyosis has not been established.
Pregnancy: Safety and effectiveness with regard to fertility and fecundity after use of the Sonata System have not been established.